Skip to Content
Glass Pool Fencing Options
Having a pool in your yard is a wonderful way to escape the heat of Australian summers, but a pool can present a few challenges as well. You need to keep it clean, you need to keep wildlife out and you need to keep small children from getting too close. With a pool fence, you can accomplish all three of these goals.
For attractive glass pool fencing in Brisbane, contact Innovative Stainless Steel Designs. We can design, manufacture and install beautiful glass safety fencing around your pool.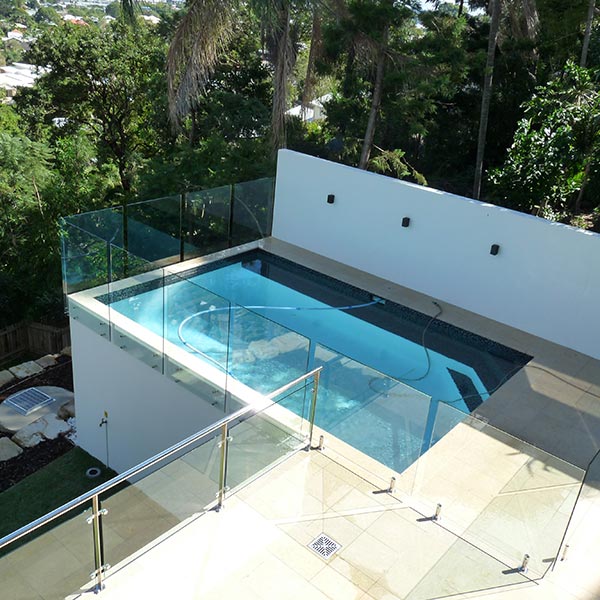 Why You Should Choose Glass Fencing
Glass fencing is a beautiful option for a pool because it is clear and unobtrusive. With glass fencing, you don't need to worry about your beautiful pool decking or landscaping being obscured.
Whether you have a gorgeous view of the river or you just want to show off your home's unique architecture, glass pool fencing allows you to keep your pool area secure without blocking the view.
The glass fencing options form Innovative Stainless Steel Designs can be made frameless and semiframeless, so you can choose the style that best fits your home. You can also choose a frameless or semiframeless pool gate that matches your fencing seamlessly.
The Benefits of Working With Innovative Stainless Steel Designs
Innovative Stainless Steel Designs has provided beautiful and functional fencing options to homeowners in the Brisbane area since 2002. We have talented teams of designers and manufacturers who can supply you with the perfect fence for your pool and yard.
Check out the images below to see some of the beautiful glass pool fencing we have installed for our clients.
If you want to have a custom fence manufactured and installed around your pool, call us today to discuss your requirements. We can be reached on 07 3899 1844 or on our contact page. We look forward to hearing from you!
Call Today for a Free Quote